Elevator System
Elevator system is the equipment to transfer the pallet or non-palletised payload(Ammunition, Cargo, Store, Provision ) to the related place.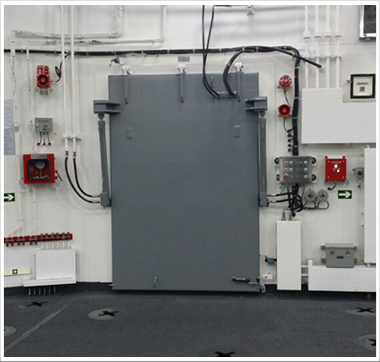 COMPONENTS
Platform assembly
Guide system
HPU
Watertight door
Drive assembly
Control system
Specification
Description - Ammunition Elevator(SWL4-5TON), Cargo Elevator(SWL5-6TON), Provision Elevator(2TON),
Electric motor or Electric hydraulic
Ramp/Gate System
Ramp/Gate System is essential system to load and unload the landing equipment and personal properly.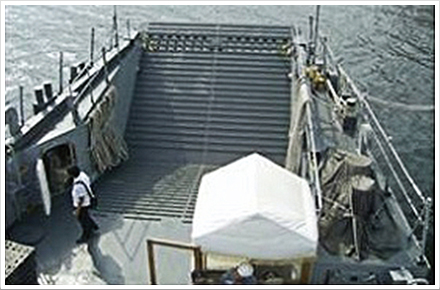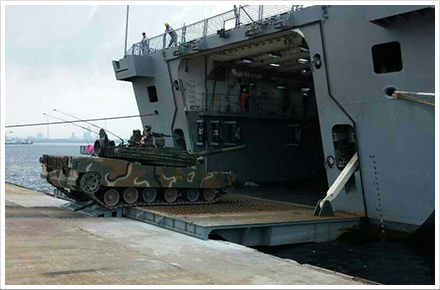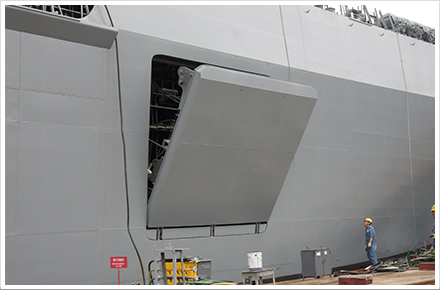 COMPONENTS
Structure
Cylinder & operating unit
HPU
Control system
Portable diesel power pack
Specification
Bow Ramp(SWL15TON), Stern Gate(SWL70TON), Side Ramp(SWL25-60TON),
Electric hydraulic
Water Jet Inlet Duct
KHNT had designed and produced the inlet duct for the military high-speed boats(500 ton) and coast guard high-speed ships(300 ~ 1500 ton) for the next generation. KHNT had furnished with our own producing system domestically for the first time, exported the inlet ducts to India Coast Guard based on technical skills
COMPONENTS
1. Bucket
2. Inlet duct
3. Steering nozzle
4. Nozzle housing
5. Cap
6. Diffuser
7. Impeller housing
8. Reversing cylinder
9. Steering cylinder
10. Shaft
Specification
Water Jet Inlet Duct, Dim-5.5m(L) × 1.0m(B) ~ 9.2m(L) × 1.6m(B), Weight: 4~20ton
Remarks :ROK Navy, Coast Guard ship 300~1,500ton class
Mine Laying System
Mine laying system is erected on the deck to load a ship with mines and lay mines on the sea promptly.
01. [MINE LAYING SYSTEM (LCU-L CLASS)]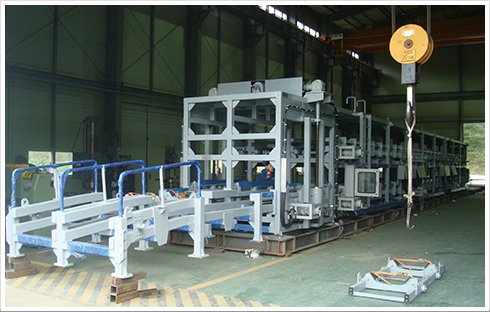 COMPONENTS
Mine stowage rack
Mine trolley
Lading rail
Up-Down lifter
Lifter driving system
Chain driving system
Emergency driving system
Control system
02. MINE LAYING SYSTEM(MLS CLASS) & LIVING QUARTER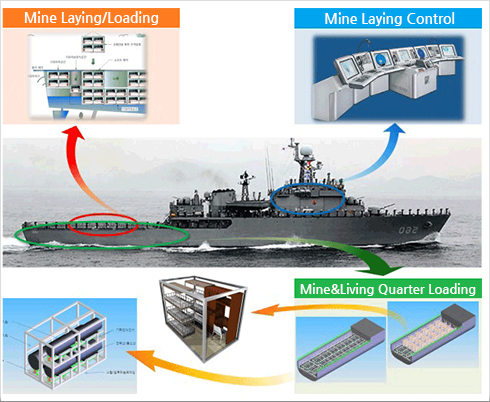 COMPONENTS
Command & Control system
Mine laying control system
Auto plot system
Mine storage system
Mine loading module
Mine drop system
Lifter for mine
Lister for module
Hydraulic power pack
Water/Air Reservoir Tank System
Fresh Water Unit System
This is the system that supplies the water to the ship inside required after pressurizing, boiling, and sterilizing fresh water.



Fresh water press tank




Water heater & Circulation pump




Fresh water sterilizer
COMPONENTS
Fresh water press tank
Water heater & Circulation pump
Fresh water sterilizer
F.O Emergency Shut-off System
This is the system that automatically shut off the fuel flowing from tank to engine to prevent fire proliferation when the engine room caught fire by enemy attack.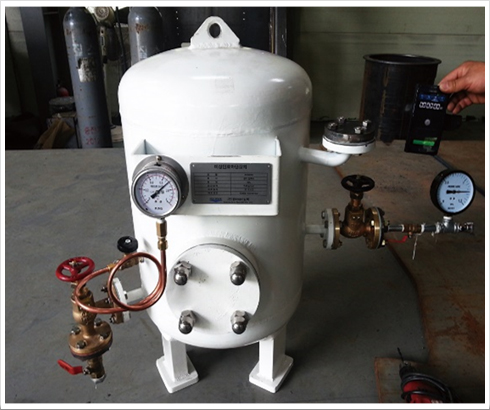 COMPONENTS
Air reservior tank
Control pannel
3-Way ball valves